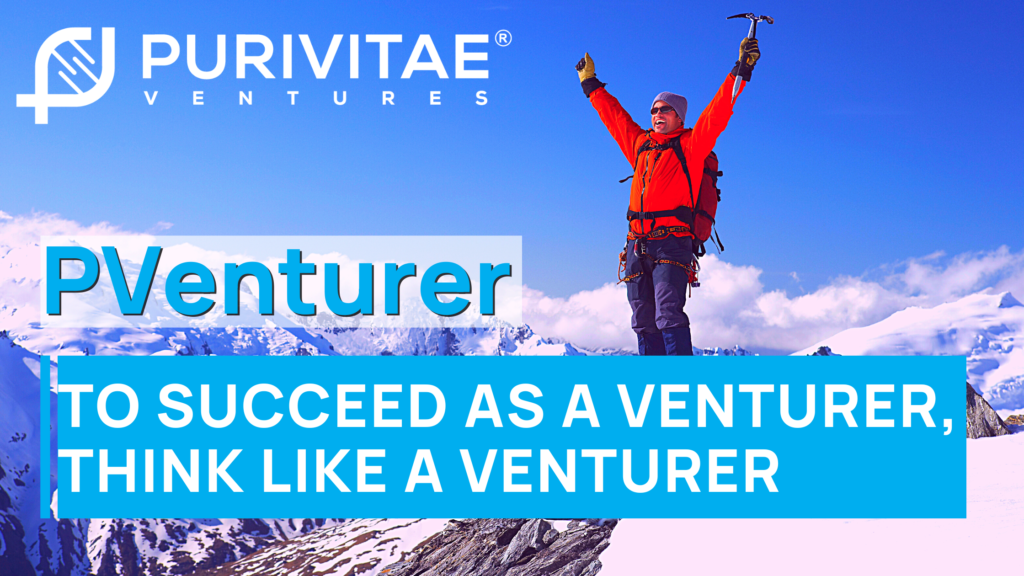 To Succeed as a Venturer, Think like a Venturer
Welcome to PVenturer – Purivitae Venture's (PV) blog – where you'll gain access to some of the latest ideas and trends shaping the consumer health and wellness products space today.
At PVenturer, you can expect PV Stories and Updates, how-to and explainer blogs, interviews with innovators and entrepreneurs and our partners' own venturer journeys.
We look forward to sharing practical tips and insights on how to successfully navigate the product development and go-to-market paths as well as how to start, optimize and develop enduring partnerships to grow your venture.
This is the inaugural post for the launch of PVenturer and we're so excited to begin this journey with you!
So where does one begin to talk about achieving success on the business venturer path?
For very good reasons, in product development and entrepreneurship, there is a lot of focus on the invention and innovation process. At PV, our team has deep experience in and is actively involved in every phase of product development and business startup. We serve our partners as expert product, brand and go-to-market collaborators and we have so much to share about all the steps involved in innovation and what it takes to transform raw ideas into reality.
But there is one thing that we have come to understand as crucial at each phase and for the overall success of any venturer journey – and that is the importance of having the right mindset.
If we want to succeed as venturers, we must think like venturers.
If we want to succeed as venturers, we must think like venturers. Our mindset has a profound impact on the way we perceive and engage our world and having the right mindset is a powerful vehicle that can help us not only learn our way forward but help us grow beyond our individual potential and achieve the entrepreneurial success we seek as venturers.
Advancing Innovation with a Growth Mindset
One mindset that we at PV seek to cultivate in ourselves and apply in our work together is a Growth Mindset.
This is a direct reference to a dynamic concept that Stanford University psychologist Carol Dweck introduced in her insightful book Mindset: The New Psychology of Success. Through extensive research Dweck found that our beliefs, both conscious and unconscious, have immense power and that by becoming more conscious of our mindsets and the choices we have over them can have profound impact at both individual and organizational levels.
Dweck examines two mindsets which can have dramatic impacts on our success and failure in both business and personal contexts and in the entire process of innovation:
A "Fixed Mindset" assumes that our character, intelligence and creative ability – our potential – are static givens which we can't change in any meaningful way and success is the affirmation of that inherent intelligence. Striving for success and avoiding failure at all costs becomes a way of maintaining the sense of being smart or skilled.
A "Growth Mindset" assumes that our intelligence and potential can be developed. This mindset thrives on challenge and sees failure not as evidence of unintelligence but as an opportunity for learning and a heartening springboard for innovation, growth and for stretching our existing abilities.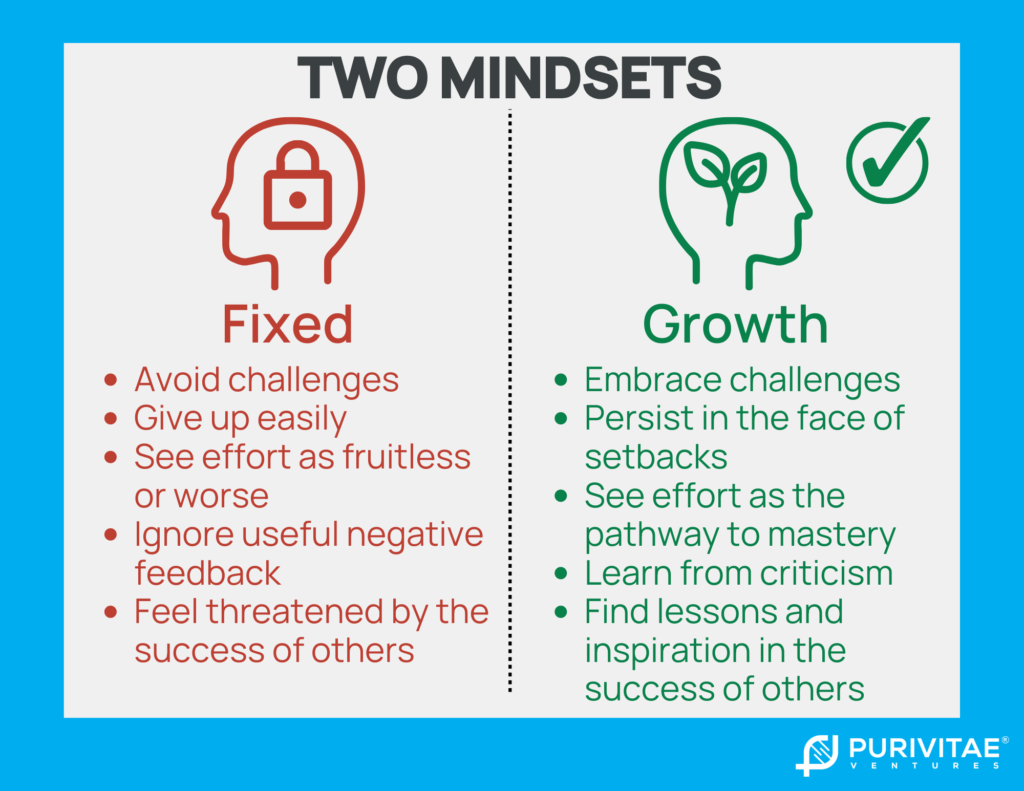 What results from these two mindsets couldn't be more different. While a Fixed Mindset can cause individuals and teams to plateau and not reach their potential, adopting a Growth Mindset drives individuals and teams to reach ever-higher levels of achievement.
Facing challenges and setbacks are part of any venturer's journey. Entrepreneurs and innovators who are determined to build and introduce revolutionary products that help improve the quality of life for everyday consumers should be prepared to face obstacles and uncertainty along the way. Whether that's coming up against a new compliance requirement or something that was missed while prototyping that leaves you facing costly redesign processes or manufacturing and supply chain delays that are beyond your and anyone's control.
By proactively adopting a Growth Mindset, venturers can become more resilient and productive as individuals and as a team amid challenges and uncertainty and, yes, they can discover that they are able to grow beyond their previously imagined potential.
Unleashing Synergy Through Enduring Partnerships
This brings us to another key element that we at PV believe is critical to success in every venturer's journey. A central component to the Growth Mindset is the idea that we are most likely to grow beyond our potential and achieve success when we find ways to work effectively together with others to create more value than we can alone. Synergy is the goal and intended outcome of teamwork and collaboration. It's something we achieve through effective and enduring partnerships.
Synergy is the magic that happens when you are able to get aligned around a common purpose and a strategy for coordinated action to create value and develop solutions that uniquely meet the needs of customers. It's the reason why PV focuses so much on building enduring partnerships in our mission to advance innovation in consumer health and wellness. The Greek origin of the modern word synergy (mid-19th Century English) kind of says it all:
syn (Greek: together) + ergon (Greek: work) = synergos (Greek: working together)
We believe that the best way to succeed as venturers is by working together in partnership with others.
Adopting and applying the right mindsets and exploring the concepts of synergy and partnership and how to bring it fully to life in the various steps and phases of product development and business development processes are all themes that we look forward to exploring in future PVenturer posts.
In the meantime, please get in touch if you are a venturer who needs help crafting a concrete vision and plan to develop your health and wellness product idea and get it into the market.